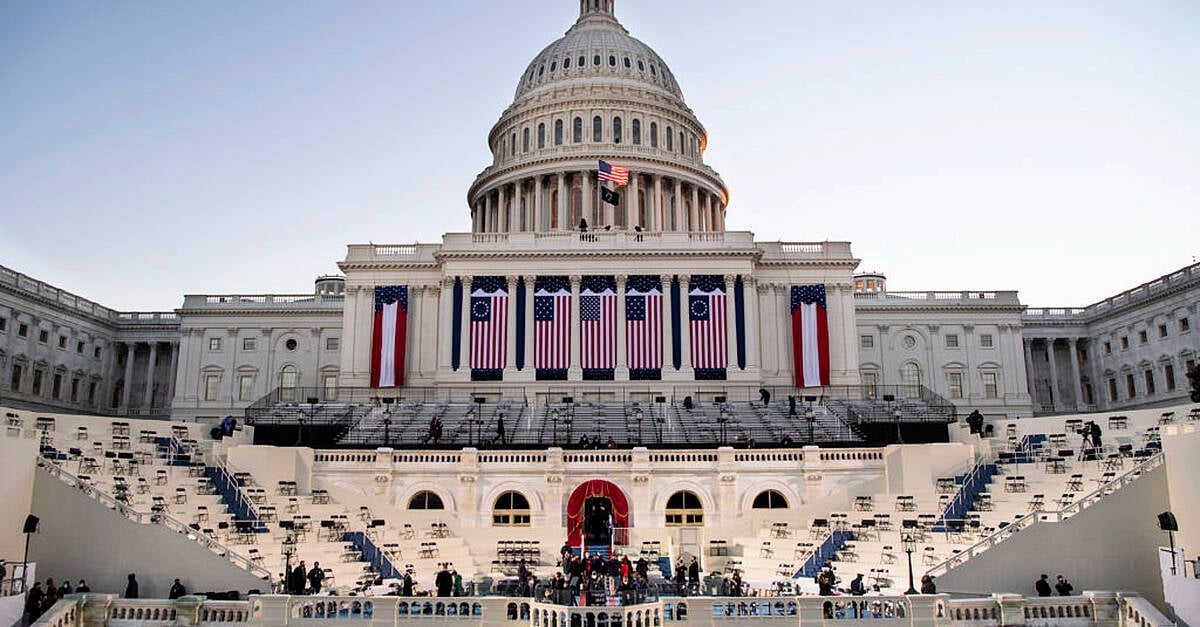 Joe Biden will become the 46th president of the United States when he swears the oath of office at the US Capitol in Washington.
Here is the latest from Washington:
---
4.42pm
Kamala Harris has been sworn in as Vice President of the United States.
Ms Harris is the first female vice president, the first of African American and the first of South Asian heritage.
Ms Harris was sworn in by the first Latina to serve on the US Supreme Court, Sonia Sotomayor.
---
4.38pm
Pop star Lady Gaga has sung the national anthem, The Star-Spangled Banner, to begin the inauguration ceremony in Washington.
---
4.30pm
The ceremony to inaugurate Joe Biden as 46th president of the United States has begun — watch it live here:
https://www.youtube.com/watch?v=LmIZmu7EY74
---
4.15pm
Joe Biden and Kamala Harris have arrived at the US Capitol in Washington.
---
2.45pm
Joe Biden and his wife Jill, as well as vice president-elect Kamala Harris and her husband Doug Emhoff, attended Mass at the Cathedral of St Matthew the Apostle as part of the Inauguration Day ceremonies in Washington.
---
2.30pm
Donald Trump did follow at least one presidential tradition, with the White House saying the Republican president left behind a note for his successor, Democrat Joe Biden.
Deputy press secretary Judd Deere declined to reveal what Mr Trump wrote to Mr Biden or to characterise the sentiment in the note, citing privacy for communication between presidents.
---
2.20pm
In a departure from tradition, Donald Trump departed Washington ahead of Joe Biden's inauguration rather than accompany his successor to the US Capitol.
The Republican president departed the White House with his wife, Melania, saying it had been a great honour to serve and vowing to return "in some form" in his final remarks.