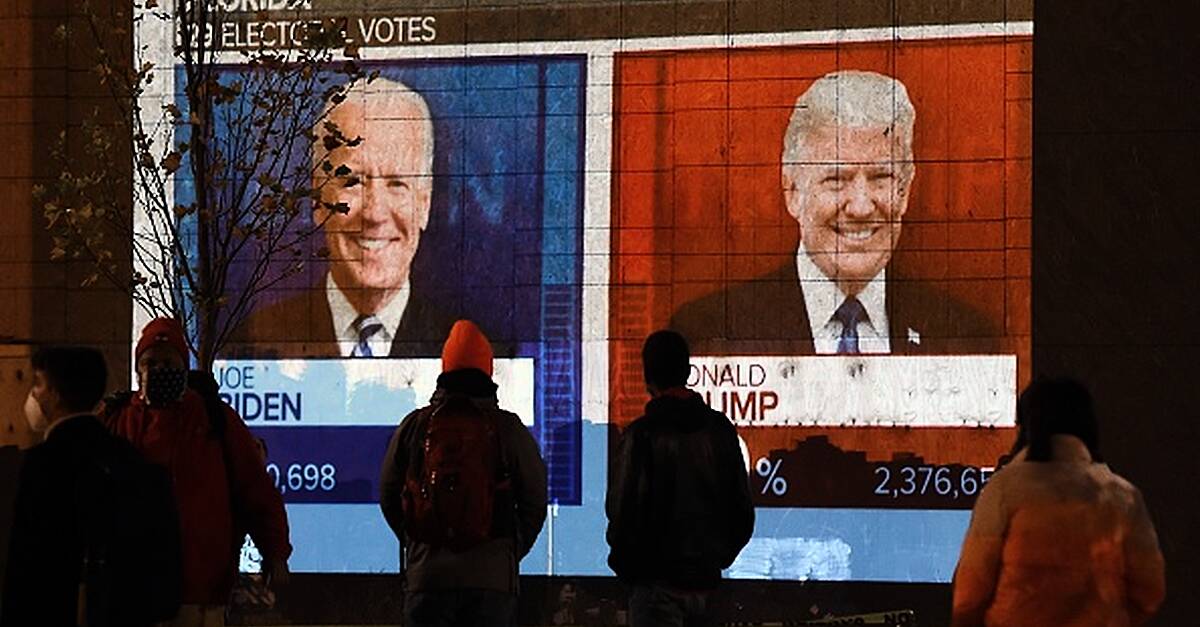 Summary
With polls closing across the US, early results are coming in from eastern and mid-western states
Donald Trump has won Alabama, Mississippi, Oklahoma, Tennessee, Arkansas, Nebraska, Louisiana, Wyoming, Mississippi, South Dakota, North Dakota, Idaho, Montana, Ohio, Iowa and Florida.
Joe Biden has won New Hampshire, Colorado, Vermont, Connecticut, Delaware, Illinois, Maryland, Washington, Oregon, California, Hawaii and Minnesota.
The eventual winner will be the candidate who gets 270 electoral votes or more
Trump has won the crucial states of Ohio and Florida. Biden is projected to take Arizona while the key states of Wisconsin, Michigan and Pennsylvania still in play with vote counting possibly going on for days.
---
06:19
Donald Trump has won the state of Texas.
---
06:15
Twitter has hidden a post from Donald Trump which claimed Democrats were trying to "steal" the election.
We placed a warning on a Tweet from @realDonaldTrump for making a potentially misleading claim about an election. This action is in line with our Civic Integrity Policy. More here: https://t.co/k6OkjNXEAm

— Twitter Safety (@TwitterSafety) November 4, 2020
---
06:05
Biden tweeted: "It's not my place or Donald Trump's place to declare the winner of this election. It's the voters' place."
It's not my place or Donald Trump's place to declare the winner of this election. It's the voters' place.

— Joe Biden (@JoeBiden) November 4, 2020
---
05:56
After addressing his supporters, Joe Biden tweeted: "Keep the faith, guys. We're gonna win this."
Keep the faith, guys. We're gonna win this.

— Joe Biden (@JoeBiden) November 4, 2020
---
05:46
Democratic challenger Joe Biden has told supporters in Delaware "we are going to win this" but warned patience would be needed, and the election would not be over until every vote was counted. Biden said he was "on track" to win the race for the White House as he addressed supporters in Delaware.
---
05:38
In the biggest coup yet for Donald Trump, he was declared the victor in Florida, seen as one of the crucial states with its 29 electoral votes.
---
05:30
Donald Trump also won Montana and Iowa, another of the swing states he claimed in 2016.
---
05:23
Donald Trump has won the state of Ohio, one of the key bellwethers in a presidential election.
---
05:21
Joe Biden has won in Minnesota where Donald Trump campaigned hard in a state he narrowly lost to Hillary Clinton in 2016.
---
05:22
Did the opinion polls get the US election wrong (again)?
---
05:19
Joe Biden will deliver a statement at 12.30am EST (5.30am Irish time), according to his campaign management.
---
05:13
Fox News projects Trump win in battleground state of Iowa (6 electoral votes)
---
05:09
Joe Biden has won the state of Hawaii.
---
05:01
In Arizona, with 76% of estimated vote tallied so far, Biden has 53.6% and Trump has 45.0% – Edison Research
---
04:59
Joe Biden's deputy campaign manager Rufus Gifford is confident.
We're going to win

— Rufus – Voted Early – Gifford (@rufusgifford) November 4, 2020
---
04:53
Fox News Projects Trump win in battleground state of Texas (38 electoral votes).
---
04:31
Races are too early to call in the most fiercely contested and critical states on the map, including Florida, North Carolina, Georgia and Pennsylvania.
---
04:30
Fox News has just called Arizona for Joe Biden. This would give Biden a huge chance of winning, even if he loses Pennsylvania.
---
04:25
Officials in Wisconsin and Michigan have reportedly said they will not be announcing a winner tonight. Pennsylvania is expected to come in slowly.
---
04:12
Donald Trump has, as expected, won the state of Utah.
---
04: 05
Joe Biden claimed expected victories in the west coast states of Washington, Oregon and California, the state with the largest number of electoral votes.
---
04:01
Donald Trump has won the state of Idaho.
---
03:58
Joe Biden has won the states of New Hampshire and Colorado along with the District of Colombia. Donald Trump has won the states of Kansas and Missouri.
---
02:42
Time for some Congress news and in Georgia Republican Marjorie Taylor Greene, who expressed racist views and support for QAnon conspiracy theories, has won a seat in the House of Representatives.
Meanwhile, in Delaware, Democratic nominee Sarah McBride has become the first transgender person elected to the United States senate.
---
02:12
Trump has picked up more electoral votes with expected triumphs in North Dakota and South Dakota, AP reports.
---
02:02
Polls have now closed in 14 further states.
New York is projected to stay Democrat and its 29 electoral college votes go to Joe Biden.
Biden also wins the southern border state of New Mexico.
Donald Trump, as expected, is declared the winner in Nebraska, Louisiana and Wyoming.
Texas is still too close to call.
---
01:49
Donald Trump appears to have lost some support among white men and older people in Georgia and Virginia, key parts of his voter base, according to an exit poll from Edison Research.
While Trump is still winning the majority of those voters, some of them switched to supporting Joe Biden, Reuters reports.
Edison's polls showed Trump winning seven in 10 white men in Georgia, which is down from an eight in 10 advantage over Democratic nominee Hillary Clinton in 2016.
Trump is winning six in 10 voters who are at least 65 years old in Georgia, that is down from seven in 10 four years ago.
---
01:35
Donald Trump's campaign team are claiming victory in Florida. But the state is still very much in play and votes continue to be counted.
President @realDonaldTrump wins #Florida!

Source: @DecisionDeskHQ pic.twitter.com/JgxwA42flr

— Team Trump (Text VOTE to 88022) (@TeamTrump) November 4, 2020
Trump has, however, won Arkansas and its six electoral college votes.
---
01:30
A first look at the voting patterns in the swing state of North Carolina – with 60 per cent of the vote tallied so far, Biden has 54.1 per cent and Trump 44.8 per cent, Reuters is reporting.
---
01:18
Donald Trump has won Alabama, Mississippi, Oklahoma and Tennessee, while Joe Biden has won Connecticut, Delaware, Illinois, Maryland, Massachusetts, New Jersey and Rhode Island.
Trump took 33 electoral votes for winning those four states, Biden adds 69 electoral votes to his total for winning seven states.
---
01:10
More polls have closed and we have the latest projections from the Associated Press.
Joe Biden claimed wins in Connecticut, his home state of Delaware, Illinois and Maryland.
Donald Trump has also picked up the electoral votes for the states of Alabama and Mississippi.
All of these are expected results and are the same as 2016 – we are yet to see a state 'flip'…
---
00:55
Rapper Kanye West has voted… for himself.
The singer and fashion designer tweeted that he was "voting for the first time in my life for the President of the United States, and it's for someone I truly trust … me."
The first vote of my life We are here to serve We pray for every servant leader in the world 🕊 pic.twitter.com/UWSrKslCt1

— ye (@kanyewest) November 3, 2020
---
00:49
Republican incumbent Mitch McConnell has defeated Democratic challenger Amy McGrath in the race for the US Senate seat in Kentucky, Fox News reports.
McConnell is the current Senate majority leader and led the process to install Amy Coney Barrett as a Supreme Court justice in the weeks running up to the election.
---
00:40
Donald Trump wins the state of West Virginia and its five electoral college votes, the Associated Press reports.
Meanwhile, Joe Biden is projected to win the 13 electoral college votes of Virginia.
---
00:30
Commentators on conservative TV network Fox News are speculating that a high turnout of women voters could be swinging the votes for Biden tonight.
---
00:27
Voting is yet to close in the crucial state of Florida but predictions about which way it will go have already started.
Bellwether Florida county, and one of the largest nationwide that Trump carried in '16 seems to be headed to Biden this time. https://t.co/VR8hYSE95J

— David Lauter (@DavidLauter) November 4, 2020
---
00:20
Early projections just in as some of the first polls close.
Donald Trump has won the state of Kentucky, while Joe Biden has won the state of Vermont.
Trump took Kentucky's eight electoral votes while Biden claimed Vermont's three.
Biden is projected by Fox News to win Democratic-leaning Virginia in widely expected results. Indiana is expected to go to Trump.
---
00:00
Polls have closed in Georgia, Indiana, Kentucky, South Carolina, Virginia and Vermont. Very early projections for these states will follow soon.
---
23:56
Results from North Carolina, a key battleground state, will be delayed by at least 45 minutes.
The polls were due to close at around 12.30am Irish time (7.30pm EST).
North Carolina election results will be delayed by at least 45 min tonight@NCSBE approved extensions at 4 precincts, including a 8:15p poll closure at a Sampson Co. location that had printer trouble this AM

NC starts releasing early vote totals when all polls close

— Dianne Gallagher (@DianneG) November 3, 2020
---
23:43
Results from an exit poll give us an insight into the issues that mattered most to US voters this time, Reuters reports.
A third of US voters listed the economy as the issue of most importance when deciding their choice for president while two out of 10 cited Covid-19, according to an Edison Research exit poll.
The coronavirus has infected more than 9.4 million people in the US this year and killed more than 230,000.
In the national exit poll, four out of 10 voters said they think the effort to contain the virus is going "very badly."
In the battleground states of Florida and North Carolina, five of 10 voters said the national response to the pandemic is going "somewhat or very badly."
Half the voters said it was more important to contain the coronavirus even if it hurts the economy, according to the poll.
---
23:26
Both candidates have taken to Twitter as voting enters its final half hour along much of the east coast.
WE ARE LOOKING REALLY GOOD ALL OVER THE COUNTRY. THANK YOU!

— Donald J. Trump (@realDonaldTrump) November 3, 2020
Folks, time is running out to make your voice heard in this election. If you haven't voted yet, go to https://t.co/EcbUdX2aPs to find your polling place and head there as soon as you can.

— Joe Biden (@JoeBiden) November 3, 2020
---
23:18
Authorities in the US are monitoring voting and any threats to the election across the country from an operations centre outside Washington DC, run by the cyber-security unit of the Department of Homeland Security.
Officials there said there were no major problems detected early on Tuesday but urged the public to be wary and patient.
US Cybersecurity and Infrastructure Security Agency director Christopher Krebs said from the centre that there was "some early indication of system disruption", but did not elaborate.
---
23:10
Back to Lafayette Square in Washington DC where supporters of both candidates have gathered.
Debbie Boehm is a Trump supporter who believes the president is divinely ordained.
She told the Associated Press: "I believe President Trump was appointed and anointed by God to get our nation back on the right path."
Boehm, a 53-year-old business owner from Dallas, Texas, is anti-abortion and said that is the most important issue for her during this election.
"Donald Trump supports life," she said. "I feel like his agenda is life. He's pro-family, look at how his children love him."
Many polls suggest the president has been trailing in several key states. However, Boehm, who was wearing a cap bearing the slogan "Keeping America Great!" remains confident in his chances of winning.
She said: "I believe he's going to win in a landslide victory."
---
23:05
It is just past 6pm eastern time in the US, so the first polls are closing in Indiana and Kentucky.
Polls in the key state of Florida will start closing an hour from now.
---
22:59
The latest tally of early voting in the US shows that almost 102 million Americans cast their votes before election day, a total that represents 73 per cent of the total turnout of the 2016 presidential election.
The Associated Press tally reveals that the early vote in several states, including hotly contested Texas and Arizona, has already exceeded the total vote of four years ago.
Early voting – whether in-person or by post or absentee ballot – has swelled during the Covid-19 pandemic as voters have sought the safety and convenience it offers.
The greatest gains have been witnessed in Kentucky, where almost 13 times as many voters cast their ballots early as in 2016.
---
22:46
You may think a nation like the US would have a nice, straightforward way of electing its president. You would be sadly mistaken.
Instead, Americans on the "electoral college" system of converting votes into power – and its quirks have meant two of the last three presidents have entered the White House with fewer votes from the public than their opponents.
Understanding its complexities will be key to following the 2020 contest.
Read our explainer here on the electoral college and why 270 is the key number tonight.
---
22:29
How have Joe Biden and Donald Trump been spending the day?
Biden visited his childhood home and church in his native Scranton on Tuesday as part of a get-out-the-vote effort before awaiting election results in his hometown of Wilmington, Delaware.
Biden and his wife, Jill, also visited his late son Beau Biden's grave. Beau, a former Delaware attorney general, died of brain cancer in 2015 and had encouraged the former vice president to make another White House run.
Meanwhile, Donald Trump called into Fox News, where he predicted he will win by a larger electoral margin than he did in 2016.
Trump then invited hundreds of supporters to an election night party in the East Room of the White House.
He also paid a visit to his campaign headquarters in Arlington, Virginia.
"I'm not thinking about concession speech or acceptance speech yet," he said in front of reporters. "Winning is easy, losing is never easy. Not for me it's not."
---
22:07
Donald Trump has spent four years in office as US president, but have you wondered what he might do with another four years?
He has consistently pointed to tax cuts and regulatory relief as key successes of his term.
Most of this year he has been defending his response to the coronavirus pandemic while fighting openly with scientists and medical experts about vaccines, treatments and more.
If he gets another chance in office, there is no indication of any big policy shift.
Click here for our look at how a second Trump term might pan out.
---
21:52
Supporters of both Donald Trump and Joe Biden have gathered near Lafayette Square in downtown Washington DC, a stone's throw from the White House.
The area is at the heart of US power and nearby buildings include the FBI headquarters and the Treasury Department.
The street leading up to Lafayette Square was renamed Black Lives Matter Plaza Northwest in June and signs supporting the movement are plentiful.
Many businesses in downtown DC are boarded up in preparation for any unrest on election night while the White House itself is protected by a fence preventing anyone getting close.
There was a carnival atmosphere on Tuesday afternoon as supporters of Mr Trump and Mr Biden mixed without trouble, while a band performed and preachers delivered street sermons, the Associated Press reports.
---
21:35
Plenty of us in Ireland are staying up a bit later to follow the results across the Atlantic, but are you wondering what time to call it a night?
Though this year's election is complicated by the historic level of mail-in ballots, we have some idea when key votes will be coming in.
Click here for our full guide.
---
21:23
Welcome to our rolling coverage of the 2020 US election results.
After a campaign that exposed the country's deep political divisions, Americans streamed to the polls today to choose either Republican incumbent Donald Trump or Democratic challenger Joe Biden to lead the nation for the next four years.
The vote is taking place against the unique background of the coronavirus pandemic, which has already claimed the lives of more than 230,000 Americans.
Earlier, it was confirmed that almost 100 million Americans have already cast their vote – suggesting this election could break turnout records.
All eyes tonight will be on the handful of battleground states that could decide the electoral college vote.
We'll bring you breaking news, updates and results as they emerge.